Introduction
Consider Rembrandt as a Bible teacher and minister of the Gospel, and his works of art as his sermons and messages. Artists such as Rembrandt did more than depict Biblical scenes and events. Just as a fiery preacher speaks from the depths of his soul and by the anointing of the Holy Spirit, so artists throughout the ages have been moved in their souls by the Word of God and sought to convey their own experiences with the Bible using their own aesthetic talent. Consider Milton's Paridise Lost or Handel's Messiah. In the world of art, perhaps no other has depicted his own experiences with the Word of God more dramatically than Rembrandt.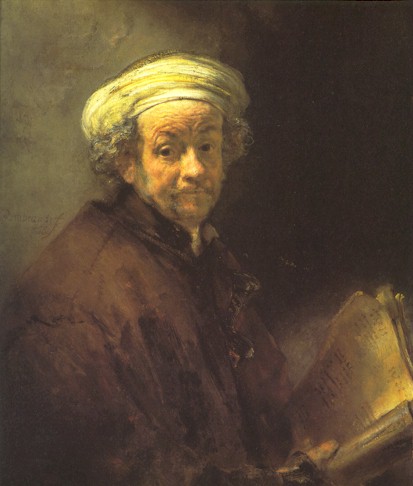 Self-Portrait as Apostle Paul, 1661, Oil on canvas
Rembrandt Harmenszoon van Rijn: Why the Bible is Essential to Properly Understand the Dutch Master
For many years, art and history scholars have studied and written many books, trying to understand Rembrant and his life's work. Many agree that he exceeds all other artists of history in his ability to capture human emotion, to emphathize with the subjects of his art, and to draw the viewer into a depth of the significance of a particular instant in time. It is no coincidence that many of his works portray events from the Bible. Scholars and students trying to learn about Rembrandt should take note: no full comprehension of Rembrandt's works is possible without an understanding of his relationship with Jesus Christ and his love for God's Word. It is the Bible that inspired Rebrandt time and time again. Great artists work from the depths of inspiration, and much of Rembrandt's inspiration came from the pages of Scripture.
Rembrant was born in 1609, just as the Reformation had taken hold throughout Europe. In the 16th century, Martin Luther had been bold to speak out against corruption and abuse of power in the Church. William Tyndale had risked his life, in the end being burning at the stake, to give God's Word to the common people of England in their own language. Other brave men did the same all over Europe, and the "Dark Ages" came to an end as the light of God's Word shone across the continent.
Many secular historians attempt to downplay the role of the Bible, and separate the time period by speaking of the Reformation as the spiritual awakening of Europe, and the Renaissance as the cultural and aesthic awakening. But the two are inseparable, and Rembrandt's life and work is an example of this.
Rembrandt's father was a member of the Calvinist Dutch Reformed Church, and his mother a Roman Catholic. While the Dutch tastes for art were growing for landscapes and peasant scenes, Rembrandt chose rather to portray historical themes and human emotion, and over a third of his subject matter came from the Bible. Over 400 illustrations of Biblical themes are attributed to Rembrant. He purchased and built a large collection of prints of Biblical events by various artists, and was often inspired by them. Had he been born at any time in the millenium before the 17th century, he would have been more restricted to portray the Bible in a liturgical nature, for such was deemed proper by the Church and society. He would also have been expected to focus on the birth, passion, and death of Christ, rather than protraying Christ's ministry and many other events from the Bible. But living in 17th century Amsterdam, he was not only free to portray Biblical events using human emotion and conveying the depth of the events, he was also well paid for his paintings. Love for the Word of God was growing all across Europe.
Rembrant's works make clear what Biblical passages moved him most deeply. He did many etchings and pen and wash illustrations of the Good Samaritan, for instance, seemingly trying to connect in his own soul with the compassion the Good Samaritan had for the wounded and destitute stranger. He identifed himself with the Prodigal Son in the painting, The Prodigal Son Squanders His Inheritance, painting himself and his wife, Saskia, and the prodigal and his mistress. In several other works, he then movingly expresses the amazing grace and forgiveness of the prodigal's father, who Jesus uses in the Biblical narrative to represent God the Father. Therefore Rembrandt shows himself as the son who was lost, and then found. Could he be communicating his own salvation experience in these illustrations?
The miracles of Jesus, and other moments of Divine intervention into everyday human life, was another aspect of the Biblical narratives Rembrandt sought to convey. Rembrandt wanted the viewers of his art not just to read the Bible, but to experience God moving in their lives. He portrays Lazurus being raised from the dead, Jesus miraculously healing the sick, and an awesome moment of Divine intervention at Belshazzar's Feast- considered one of his greatest works. He also sought to communicate the pain and consequences of sin, and several of his masterpieces serve as examples of this, including Jeremiah Laments the Devastation of Jerusalem and The Blinding of Samson.
Though he was successful painter and highly respected in his own day, Rembrandt's life was not without sorrow and tradgedy. Between 1635 and 1641, he and his wife Saskia had four children, but only one survived. They named this child Titus, a Biblical name. Rembrandt was then grieved with Sakkia's death in 1642. He began to live above his means, purchasing other works of art that inspired him: Italian, Dutch, and Flemish paintings; ancient sculptures, weapons and armory, and other works of art. Soon his collecting expenses exceeded his income from his own paintings, and his debt mounted. In the mid-1650's, he auctioned his house and his collection to pay his debts, but the result of the auction was disappointing. He was left bankrupt and embarrassed. Yet he never let his personal problems affect his work. He continued to draw strength and courage from God and His Word, and his artistry actually improved towards the end of his life. However, he continued to be visited with hardship. His second wife, Hendrickje, died in 1663, and his only son Titus passed away in 1668. Less than a year later, on October 4, 1669, Rembrandt died in Amsterdam.
In painting Self-portrait as Apostle Paul near the end of his life and career, was Rembrandt identifying himself with the great apostle? The apostle had suffered many hardships, but in the end said, "I have fought the good fight of faith." The New Testament writings of Paul show he was deeply moved to share that God's intervention into a person's life can bring about dramatic change- even changing eternal destiny. Rembrant's Biblicial works proclaim the same message.
Start your tour: You can tour the groupings of the exhibit from start to finish by clicking on the "next" button at the bottom of each page. Alternatively, click on one of these links to go directly to a particular grouping:
Copyright © 1998-2002, The Ancient Page